Interventional Neuroradiology Fellowships
Interventional Neuroradiology training in WA is provided by the Neurological Intervention and Imaging Service of WA (NIISwa) which is the first specialist Neuroradiology department in Australasia.
NIISwa provides a state-wide service of both tertiary and quaternary Diagnostic and Interventional Neuroradiology. It is headquartered at Sir Charles Gairdner Hospital but the services are provided at SCGH, FSH and RPH campuses with a staff of 10 full time Neuroradiologists. The Interventional Neuroradiology Fellowship at NIISwa fulfils the requirements of a Training Service as required by the Conjoint Committee for Recognition of Training in Interventional Neuroradiology (CCINR). One position is offered per calendar year (from January to January).
The Fellowship can be structured as a one- or two- year fellowship based on mutual agreement with consideration on the applicant's prior experience. It is based at Sir Charles Gairdner Hospital, where the neuroscience services of WA Health are based, however opportunities to be involved in cases at the other hospitals under the state-wide service may be discussed on a case-by-case basis.
Four internationally trained Interventional Neuroradiologists provide a state-wide service for assessment and treatment of neurovascular diseases. All aneurysms in Western Australia are treated at a single state-wide unit at SCGH with a multidisciplinary approach with neurosurgery for optimal patient outcome.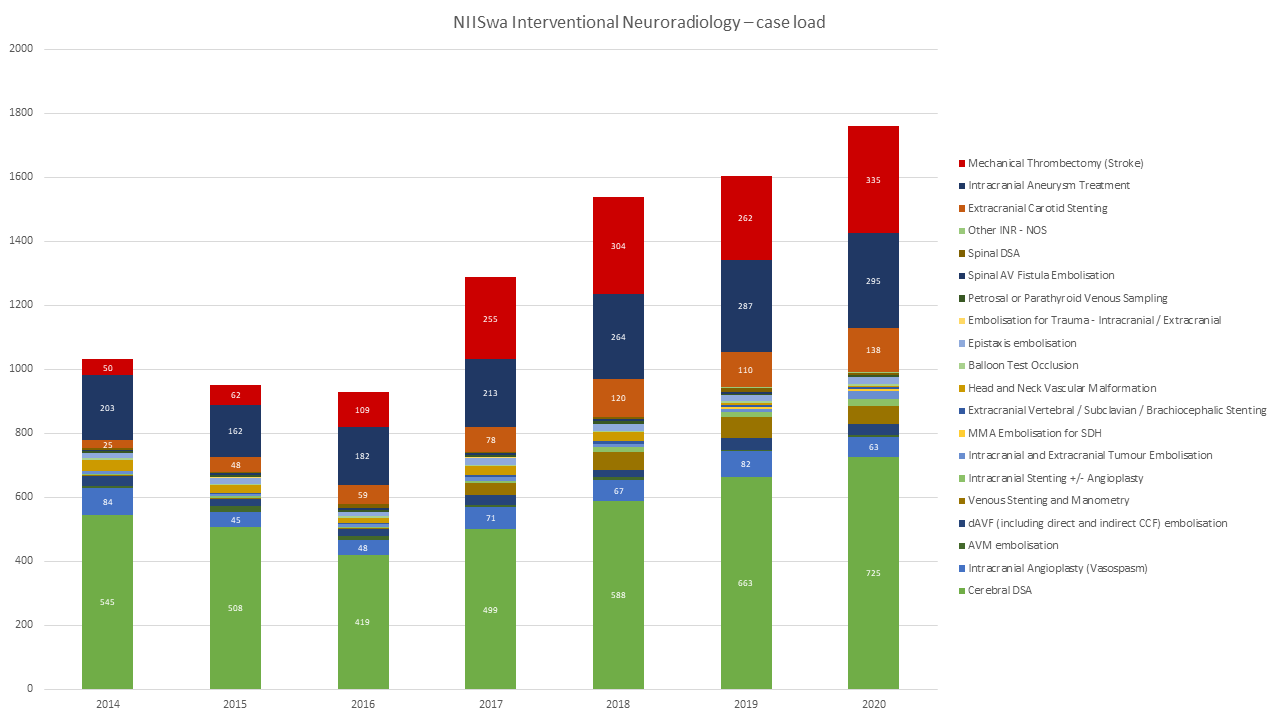 Updated 23rd April 2021
Consistently over 800 neurointerventional operations per year, excluding catheter angiography, was performed by the service over the last three years. Due to the complete catchment of the Western Australian population, a comprehensive training of all neurointerventional operations can be provided, including aneurysm treatment, stroke intervention, extracranial revascularization (stenting), dural sinus stenting, tumour and epistaxis embolization, vascular malformation assessment and treatment (including AVM and dAVF), endovascular treatment of vasospasm, physiological testing including balloon test occlusion and Wada testing, and paediatric neurointervention.
Formal meetings include:
Aneurysm review meeting (weekly)
AVM review (monthly)
Morbidity and mortality meeting (monthly)
Royal Perth Neuroradiology meeting (weekly)
Departmental CME meeting (fortnightly)
Royal Perth Head and Neck meeting (weekly)
Sir Charles Gairdner cancer board meeting (weekly)
Sir Charles Gairdner interdisciplinary aneurysm meeting (weekly)
Statewide interdisciplinary AVM meeting (monthly)
ENT meeting Sir Charles Gairdner Hospital (weekly)
Sir Charles Gairdner Hospital neurology meeting (monthly)
State based Neurology grand round meeting (weekly)
Peripheral AVM meeting (quarterly)
Interdisciplinary epilepsy meeting (monthly)
Deep brain stimulation meeting (quarterly)
Sir Charles Gairdner Hospital ophthalmology meeting (monthly)
Three Neurodiagnostic Fellows are also within NIISwa. The Neurodiagnostic Fellows are not directly involved in neurointerventional procedures but are involved in the imaging work up and get a comprehensive understanding of the role of intervention in these cases. The Interventional Neuroradiology Fellow is involved in a 1:4 on-call system with the three Neurodiagnostic Fellows. Close supervision is provided by a Consultant on call.
Training will ensure the Fellow is competent in multi-disciplinary patient care; the importance of the clinical aspects of Interventional Neuroradiology is emphasised. The Fellow is expected to lead an Interventional Neuroradiology team (comprising of a medical registrar, two resident medical officers attached to NIISwa at SCGH as well as medical students attached to the unit and an intern at FSH) under supervision of a consultant on daily ward rounds, as well as participate in outpatient clinics. Training will also emphasise that Fellows make decisions regarding effective utilisation of healthcare resources in the context of individual patient care.
The prospective Fellow should recognise the importance of research and actively participate in advancing their knowledge of their specialty. The Fellow is expected to produce at least 1 publication and 2 CME lectures during his/her tenure and will have regular review meetings with supervisors as to progress.
Goals for the Interventional Neuroradiology Fellowship include:
Understand the anatomy and physiology of the brain, head, neck and spine;
Understand the pathology of disorders amenable to neurointerventional techniques;
Understand perioperative and intraoperative medical therapy used in Interventional Neuroradiology;
Competency in outpatient and inpatient clinical assessment, in both emergency and elective settings;
Extensive exposure and experience in the workup of neuro vascular diseases and planning therapy;
Competency in the performance of the entire spectrum of neurointerventional therapy as well as associated imaging techniques;
Competency in complication assessment, techniques in avoidance and management in the neurointerventional setting;
Holistic approach to the diagnosis and treatment of neurovascular disease with emphasis on a clinical role and responsibility in managing patients as a clinician over time;
Understanding of ethics in relation to neurointerventional therapy;
Knowledge and experience of quality assurance and patient safety initiatives;
Competency in teaching and clinical research in Interventional Neuroradiology.
Please note that the next available start date for the Interventional Neuroradiology Fellowship is January 2022.
Applying for the Interventional Neuroradiology Fellowship
NIISwa Fellowship applications are handled by: Fiona Solly, Clerical Manager This email address is being protected from spambots. You need JavaScript enabled to view it.
If you are interested in the Fellowship, please forward an up-to-date version of your CV and three references to the above address, along with a covering letter briefly indicating:
1. Your prior experience in diagnostic neuroradiology, general interventional radiology and interventional neuroradiology. 2. Your preferences in regards to training duration with NIISwa. 3. Whether you possess any external funding. 4. Specific career goals once you have completed the Fellowship. 5. If you plan to undertake the Royal Australian and New Zealand College of Radiologists Board Exams as part of your career goals during your tenure in Australia?
We welcome both local and international applicants, however FRANZCR eligibility or equivalent board certification is a requirement.